WALDCAMPUS Austria
The forest training centre Traunkirchen is located in Upper Austria. Its main role is to offer initial and further theoretical and practical education for people in the forestry industry and for people interested in forests. Students from agricultural and forestry based schools take advantage of special course offers that fall within the area of their professional training. As well as forestry educational options (e.g. skilled forest worker courses, master of forestry courses or harvester driving courses), the forestry training centre Traunkirchen offers a wide range of forestry seminars covering all current issues in forest and ecosystem management.
Accomodation
Participants of "Forests in Women's Hands" are kindly requested to make their own accommodation arrangements. The region is a popular tourist destination and early booking is highly recommended.

The organizing team will reserve a room contingent in hotels and accommodations in the region for this purpose. A list of accommodation options will be provided on this page in good time. You can then make reservations using the reservation code "Wald in Frauenhänden".

For remote accommodation, a shuttle service is available after registering with the organizing team of the conference via This email address is being protected from spambots. You need JavaScript enabled to view it..
How to get there
Arrival by plane

with flights to Vienna, Linz, Salzburg, Munich

Distance to airports:
Linz 74 km
Salzburg 89 km
Munich 263 km
Vienna 266 km
From Vienna airport you can reach Traunkirchen by train with only one change.
Arrival by train
Coming from Vienna or Salzburg take the ÖBB Railjet to Attnang-Puchheim, change at the same platform to a regional train to Traunkirchen, the trains run at regular intervals. Estimated travel time 2 h 45.
WALDCAMPUS Austria is only 400 m away from Traunkirchen train station.
Arrival by car
A1 from Vienna/Linz - exit Regau - B 145 to Traunkirchen - follow the signs "Waldcampus Österreich" (estimated travel time 2 h 45)
A1 from Salzburg - exit Regau - B 145 to Traunkirchen - follow the signs "Waldcampus Österreich" (estimated travel time 1 hour)
A9 from Graz: at junction "Voralpenkreuz" change to A1 direction Salzburg - exit Regau - B 145 to Traunkirchen - follow the signs "Waldcampus Österreich" (estimated travel time 2 h 45)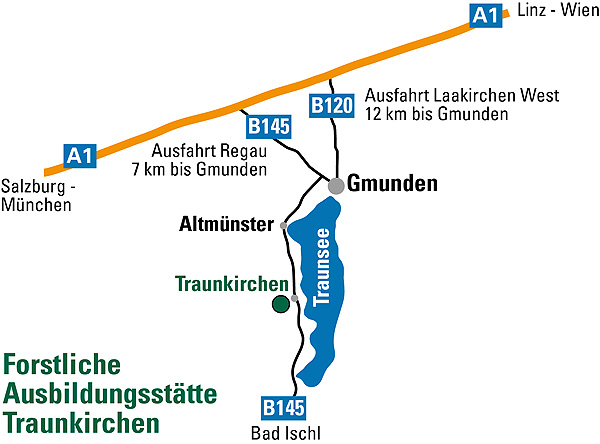 Adress
WALDCAMPUS Österreich
Forstpark 1
4801 Traunkirchen