What is the aim of the conference?
The conference aims to promote international networking and exchange of experience among women in forestry, and to increase the visibility of women and their achievements in the forest sector.
What is the format of the event?
This is a networking event (no abstracts submission) The programme includes icebreaker activities and an optional tour of "WALDCAMPUS Austria" on the arrival day. The main conference day will host a panel discussion, information market and world café, as well as an evening reception. Findings and insights gained during the main conference day will be reflected in field tours where participants will see examples from forest practice and learn about Austria's multifunctional forest competence.
Why is this event focused on "Forests in Women's Hands"?
About 30% of forest owners in Austria are women, which means that some 25% of Austria's forest area is in women's hands (Agrarstrukturerhebung 2016). The situation is quite similar in Europe where roughly one third of small forest holders are women. Women also play an important role in decision-making for family-owned forests.
Still, women are underrepresented at educational institutions and in forestry professions in Austria, and in several other countries. Some of the reasons for the underrepresentation and weak visibility of women include poor integration of women, a traditional understanding of gender roles and the lack of role models in the field.
Who supports women pursuing education or a career in forestry?
Women's forestry networks such as Austria's "Forstfrauen" and similar networks in Germany, the Nordic countries, Poland, Slovakia, Slovenia and other countries are already connecting female forest owners and professionals, and creating opportunities for women in forestry. The conference will provide an occasion to share about the networks that you are familiar with, and to discover others.
The Forest Association of Styria initiated the "Forest in Women's Hands" project in 2011, from which - not least because of the high level of acceptance of the project - the title for our eponymous conference was "borrowed". The aim of this project was and is to get more women enthusiastic about forestry and to motivate them to actively participate in this sector. Governments, universities, companies, and civil society organizations are taking action as well. Many specific programmes for mentoring (for example the Mentoring Programme for Women in Forestry recently launched by BMNT, BOKU and BFW) or scholarships are available to women in science. Also business strategies increasingly recognize the potential of women.
Particularly, we would like to mention the support of the Austrian Federal Ministry for Agriculture, Regions and Tourism (BMLRT), whose financial contribution has made it possible to host this conference.
Which languages will be spoken?
The largest proportion of participants are expected to come from Austria, Germany and European countries; therefore, the programme will be offered bilingually in English and German. Simultaneous translation will be available on the main conference day and there will be a choice of English or German language field excursions. These language facilities are intended to enhance participation and understanding, and multiple opportunities will be created for interaction of all participants irrespective of their preferred language.
Who can participate?
Forest owners and anyone who is studying or working in forest-related fields (academics, forest managers, forest workers, policy makers, and students) are invited to participate. The interactive format of the event will provide many possibilities for participants to actively engage in discussions and to learn from each other about a variety of existing projects and initiatives. The diverse backgrounds of participants will contribute to the richness and quality of the mutual learning experience.
How will the outcomes of the conference be communicated?
Participants will share results through their networks, which will likely grow due to professional connections and friendships gained during the event, and return home with new ideas, knowledge, and tools that can be applied in practice.
Results of the conference will be presented to the Forest Forum of the Austrian Forest Dialogue as a measure for implementing the Austrian Forest Strategy 2020+, and shared through the partners' communication channels and possible media outlets.
Who organises the conference?
Project coordination:
BFW – Austrian Research Centre for Forests
The BFW is an Austrian federal, multidisciplinary research and education centre which holds the legal status of an institution under public law. The BFW consists of six specialist institutions, two forest training centres (Traunkirchen in Upper Austria and Ossiach in Carinthia), one library and documentation office and numerous internal service centres.
The head office of the BFW is located in Schönbrunn, Vienna; with another office in Innsbruck. A research garden is located in Tulln (Lower Austria) and a training and research forest in Carinthia.
The BFW currently employs a total of about 276 people. The overseeing bodies of the BFW are the Director and the Economic Council; within which the Federal Ministry for Sustainability and Tourism and the employees are represented.
Organizing Partners:
Forstfrauen
The association Forstfrauen makes women in forestry, their achievements and activities visible, connects, informs and supports them. The Forstfrauen connect women (and men!) from all sectors and levels of the forestry and timber industry - regardless of their vocational training. It is essential to want to actively live the networking idea: Each member can and should bring in his abilities, but also their contacts and professional background in the sense of the association's goals.

IUFRO – International Union of Forest Research Organizations
IUFRO is a non-profit, non-governmental international network of forest scientists, which promotes global cooperation in forest-related research and enhances the understanding of the ecological, economic and social aspects of forests and trees. IUFRO is "the" global network for forest science cooperation. It unites more than 15,000 scientists in almost 700 Member Organizations in over 125 countries, and is a member of the International Science Council (ISU). Scientists cooperate in IUFRO on a voluntary basis.

IFSA – International Forestry Students' Association
IFSA's vision is for global cooperation among students of forest sciences in order to broaden knowledge and understanding to achieve a sustainable future for our forests, and to provide a voice for youth in international forest policy processes. It is our mission enrich our members' education through international events, networking and intercultural exchange.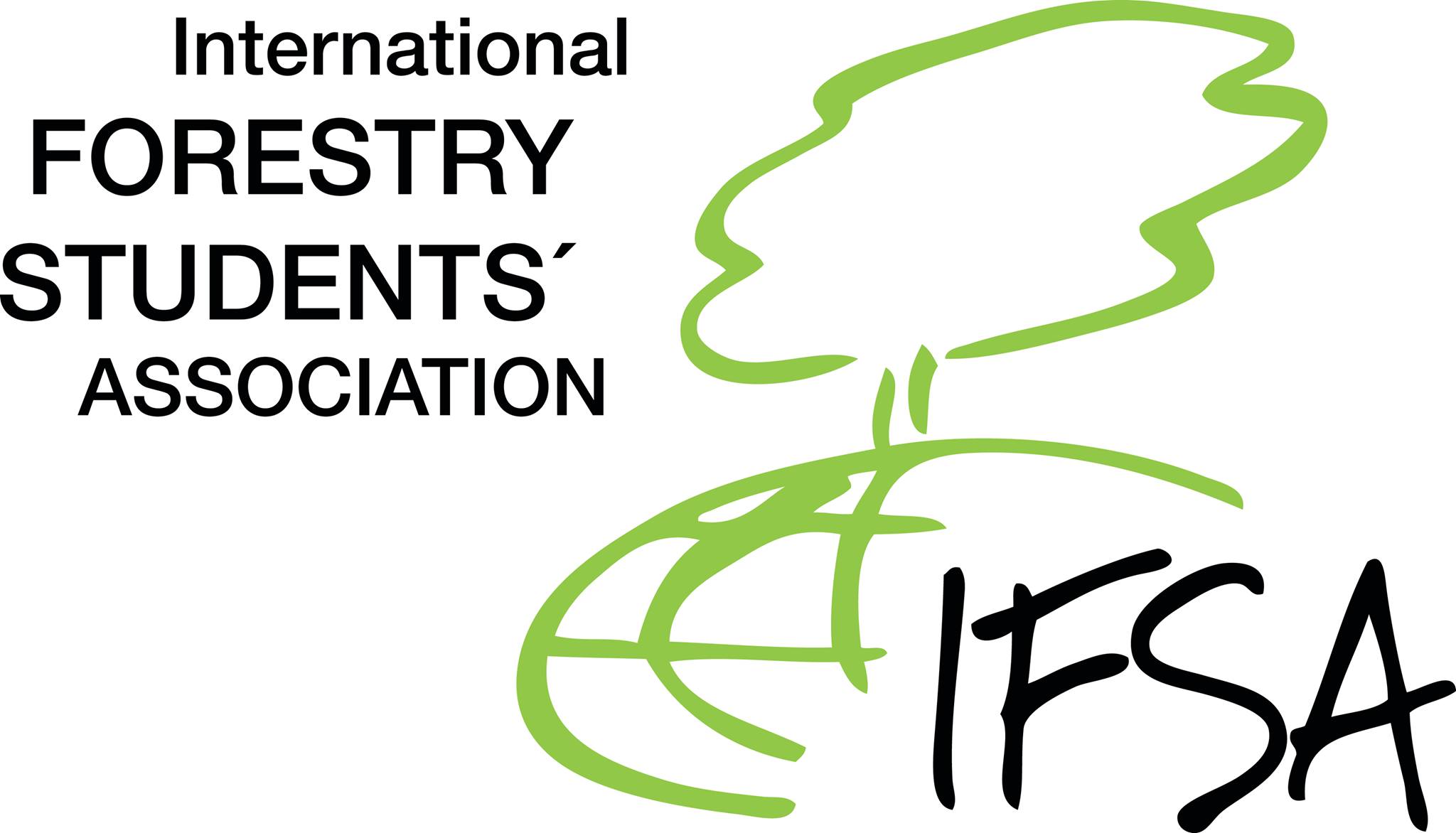 Supported by:
Federal Ministry for Agriculture, Regions and Tourism (BMLRT)